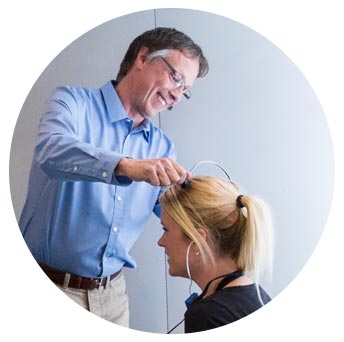 Dr. Brian Alexander,
Au.D.
AUDIOLOGIST
He's always learning.
Whether it's playing music, exploring advances in audiology, teaching university graduate students in audiology or immersing himself in research, his authenticity and dedication shines.
For those who have experienced Brian's passion for science, sound and helping others - the fact that he became New Brunswick's first audiologist to practice with a Doctorate of Audiology - will come as no surprise. Early into his career Brian established the Alexander Hearing Center, earning the respect and admiration of his peers and clients for his innovative spirit and commitment to evidence-based solutions for hearing loss and tinnitus.
In 2013 Brian decided to leave the Alexander Hearing Center that he had founded, to pursue a vision dedicated to 'accelerating the potential' of children and adults with hearing and speech-related challenges. Metro Hearing & Speech Centre is the result - and is focused on creating a community of shared expertise, resources and conversations. It is one of the first Centres in Eastern Canada to specialize in the assessment and treatment of Auditory Processing Disorders and Tinnitus with both Audiology and Speech Pathology under one roof.
Brian also continues to provide evidence-based hearing solutions for those with hearing loss including a new comprehensive approach to the selection and fitting of hearing aids- that resulted from the insight, knowledge and skills learned from the addition of Auditory Processing and Tinnitus specialities.
Chelsea Millican,
M.S.Ed., S-LP(C)
SPEECH LANGUAGE PATHOLOGIST
She'll never forget the day she spoke on stage at a National Conference.
For Chelsea it wasn't simply an accomplishment, it was also confirmation that she was inherently passionate about her work as a speech pathologist. Her love for languages originally fuelled a career in translation, but she quickly realized it didn't allow her work with people.
Chelsea believes that on some level, we both love and fear speaking. Maybe in part because kids are quick to tease for the dumbest reasons, or it's simply an issue of confidence. In many ways she feels her work empowers people, by giving them the confidence to overcome speech related challenges.
Chelsea received her Bachelor of Arts degree in Linguistics from the Université de Moncton, a Diploma in Communication Sciences Disorders from The University of Massachusetts in Amherst, MA, and a Master of Science in Education in Speech-Language Pathology from The College of Saint Rose in Albany, NY.
In previous roles prior to joining Metro Hearing & Speech in 2014, Chelsea served a range of clients from preschoolers to adults with a complexity of speech and language challenges.